Flat Roofing Options: EPDM vs Torch-on (Modified Bitumen)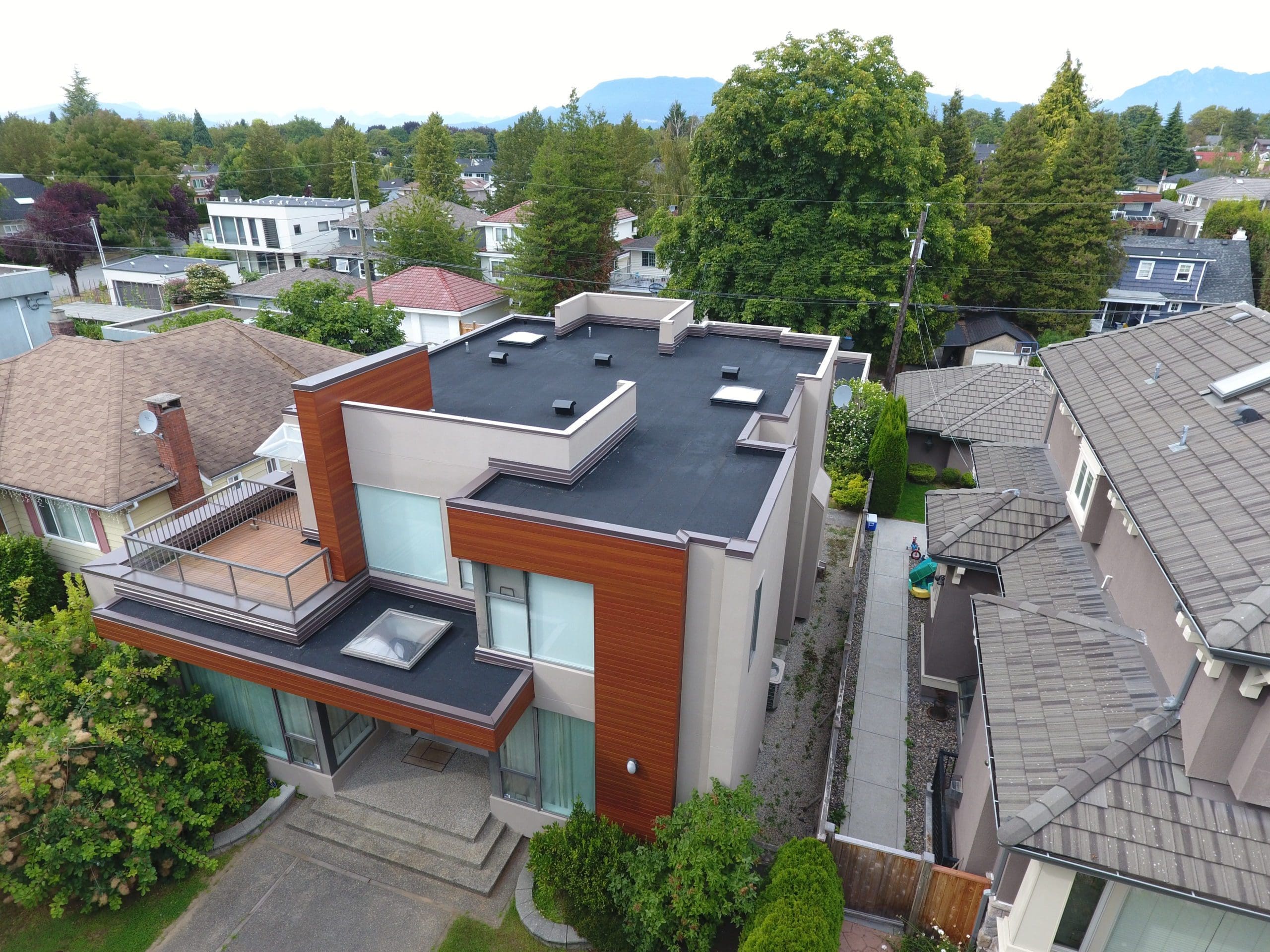 EPDM and modified bitumen for flat  roofing systems are some of the most common commercial roofing materials and are often compared against one and other. All buildings and roof assemblies are not the same. Depending on your building's design, there will be pros and cons to each option available for your building.
What Is EPDM Roofing? 
EPDM is an extremely durable synthetic rubber roofing membrane that is widely used on flat and low-slope roofs. Its two primary ingredients, ethylene and propylene, are derived from oil and natural gas. First Introduced in the 1960's, it became increasingly popular through the 1970's and 1980's in North America.
What are the pros and cons of EPDM on flat roofing?
Pro: EPDM can be produced in wide carpet-like rolls up to 40 feet wide and 100 feet long. For new construction, this can have a great advantage as roofing contractors can loosely lay down a large footprint before any penetrations are put in place.
Pro: Depending on the particular system, the average service life of a locally installed EPDM roof is 25 years.
Pro: EPDM can be installed in a variety of ways, again depending on your building's needs. Locally the most common method has been by loose laying the field area and then ballasting the membrane with 2" river rocks. Other methods of installing can be using low VOC adhesives or mechanical attachment, either way, roofing contractors don't have to use open flame torches or extremely hot industrial heat guns to apply EPDM. This greatly reduces the fire risk to the building during installation.
Con: Much like other single-ply membranes, EPDM roofs can be easily damaged and are susceptible to punctures or tears from both foot traffic and debris such as falling tree branches.
Con: EPDM can be a cost-effective roof solution for an extremely large building with minimal penetrations; however, the failure points can often be traced back to a seam failure. Since the inception of the EPDM membrane, there have been many changes to the adhesives that are used at the seams in order to reduce seam failure. In the end, you will still be relying on glue to keep water ingress from occurring.
What is SBS Modified Bitumen Roofing? 
Modified Bitumen has been around since the late 1800's. Originally, it was primarily used against a building's foundation however it eventually made its way up on to the roof. The most popular version of this was the old "Tar and Gravel" roofing membrane. During the 1950's SBS modified bitumen, also known as "torch-on roofing" was developed. SBS torch-on has traditionally been the most popular flat roofing system in Metro Vancouver over the past 35 years.
What are the pros and cons of modified bitumen on flat roofing?
Pro: Its multiple layered system provides a robust membrane that can hold up to the constant freeze-thaw cycle in Western Canada. It is also more resistant to foot traffic and punctures compared to the typical single-ply system.
Pro: Most older buildings have had their roof assembly designed with SBS membranes in mind. Depending on your building's design, it might be more cost-effective to stay with a similar roofing system.
Con: Installing an SBS torch-on membrane is more labour intensive compared to most single-ply membranes. This can mean an increase in the installation time and costs.
Con: SBS is typically applied using an open-flame torch. This can, of course, increase the fire hazard to the building during construction. It's essential that you hire a roofing contractor with a proven track record in following the proper fire safety protocols. Furthermore, one that has the proper insurance coverage for your project.
Both EPDM and modified bitumen roofing systems are quality roofing options provided they are installed by a qualified commercial contractor. Like any other flat roofing system, daily wear and tear, as well as regularly scheduled maintenance, can affect the lifespan and performance of both options.
No matter which option works best for you and your budget, what's most important is that you hire the right roofing company. A qualified and experienced company like Penfolds will ensure the proper materials and the best practices are utilized during installation of your flat roof. Ask about our financing options when you request your Free Estimate!
Source:
Flat Roofing Options: EPDM vs Modified Bitumen